BlueNalu makes a splash with groundbreaking cultivated yellowtail
In a huge milestone for the cultivated seafood industry, BlueNalu has successfully produced whole-muscle portions of yellowtail fish fillet derived directly from fish cells.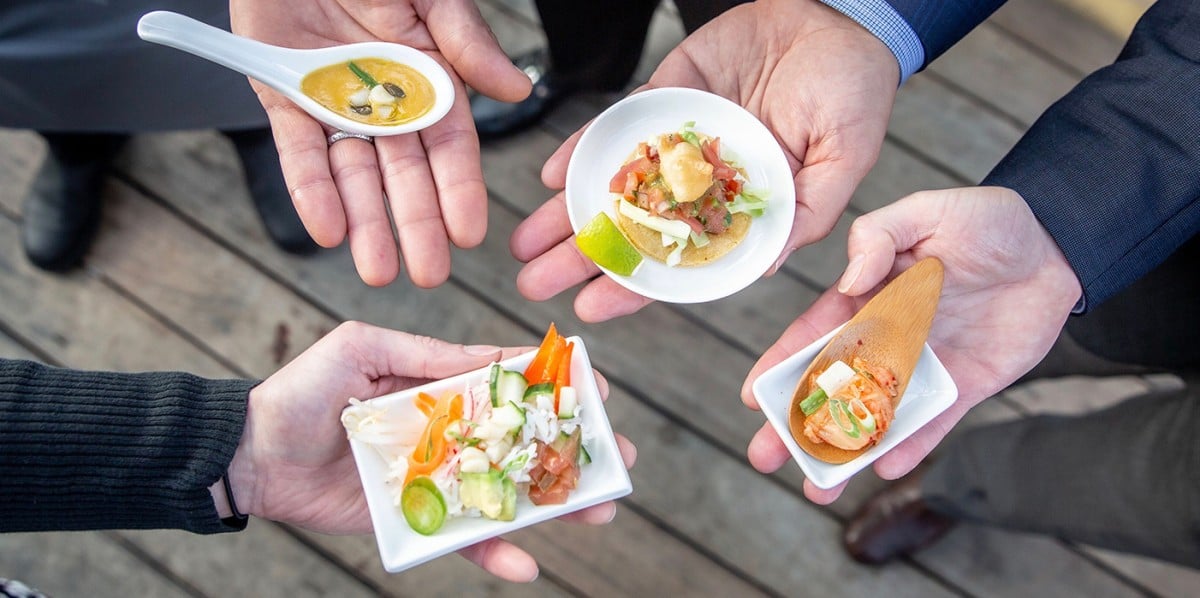 Even though plant-based versions of ground meat products like burgers and sausages have recently taken off, creating entire cuts of meat without animals has remained a huge challenge. A cooking demonstration this week by cellular aquaculture pioneer BlueNalu showed the potential for producing fillets developed from fish muscle cells. This is the first-ever demonstration of a cultivated (aka cell-based) seafood product that has the same structure as its conventional counterpart and exhibits the same versatility in cooking.
The revelation of a revolutionary product
"BlueNalu has accomplished a major milestone," said its president & CEO Lou Cooperhouse in a press statement. "Our team has produced whole-muscle portions of yellowtail fish fillet, derived directly from fish cells, which performs the same as a conventional fish fillet in all cooking applications."
The yellowtail amberjack can be prepared raw, heated directly, steamed, fried, or marinated. During the event in San Diego on Thursday, BlueNalu corporate chef Gerard Viverito whipped up a spread featuring the yellowtail, including tacos, bisque, poke, and kimchi.
"I'm extremely excited about cooking with a whole-muscle, cell-based seafood product, as this represents sustainability in a new way," Viverito said. "I feel great about cooking with seafood that supports ocean health and species biodiversity. In addition, I don't have to worry about bones, fish scales, filleting, or having to throw away any unused parts."
BlueNalu rapidly advances its mission
As ocean resources are strained around the world and unsustainable consumption continues globally, BlueNalu's cellular aquaculture aims to decrease pressure on wild and farmed fisheries. Their goal is to improve human health, alleviate animal suffering, enable responsible eating, and boost food security. To accomplish this, the company targets species that are imported or hard to farm and collaborates with the seafood industry to put cultivated options on the market.
The startup, whose science and technology team was established just last year, intends to bring cultivated seafood to a test market by 2020 as their next step on their road to commercialization and mass production. Although yellowtail amberjack will be among its first commercial offerings, BlueNalu has also produced mahi-mahi and red snapper from cultivated cells.
"When we started this company, there was little available science on the long-term propagation of fish muscle cells and no reliable culture protocol," said its Chief Technology Officer Chris Dammann. "To create a whole-muscle product from fish cells grown without genetic modification required considerable innovation. Scientifically, the achievement of going from blank canvas to food product so quickly cannot be understated. We are now ready to focus on our next phase of growth to increase production volume."
An optimistic outlook for cultivated seafood
"What's particularly exciting is that while other companies are using edible or biodegradable scaffolds to grow cells, BlueNalu uses extrusion bioprinting, a method somewhat similar to the extrusion used in plant-based meat manufacturing but in which the cells themselves are part of the extruded mixture," said GFI senior scientist Dr. Claire Bomkamp. "This method offers a potential alternative that will likely come with a different set of advantages and limitations compared to scaffold-based approaches. BlueNalu's demonstration of an extrusion bioprinting-based product that cooks like conventional fish is an encouraging sign that extrusion might be a real option for producing cultivated fish."
"While scientists and engineers are the ones figuring out how to make high-quality cultivated seafood at scale, we also need chefs using these products to push the boundaries of food," Dr. Bomkamp said. "I'm really excited for all of us to start thinking about cultivated seafood in a more concrete way. These companies' successes give us reason to hope cultivated seafood will replicate the diversity of seafood we know and love."