Five questions with the plant-pushers at Wicked Healthy
The Sarno Brothers of Wicked Healthy are power players of the plant-based industry. They stopped by the GFI Blog to explain what they do and why.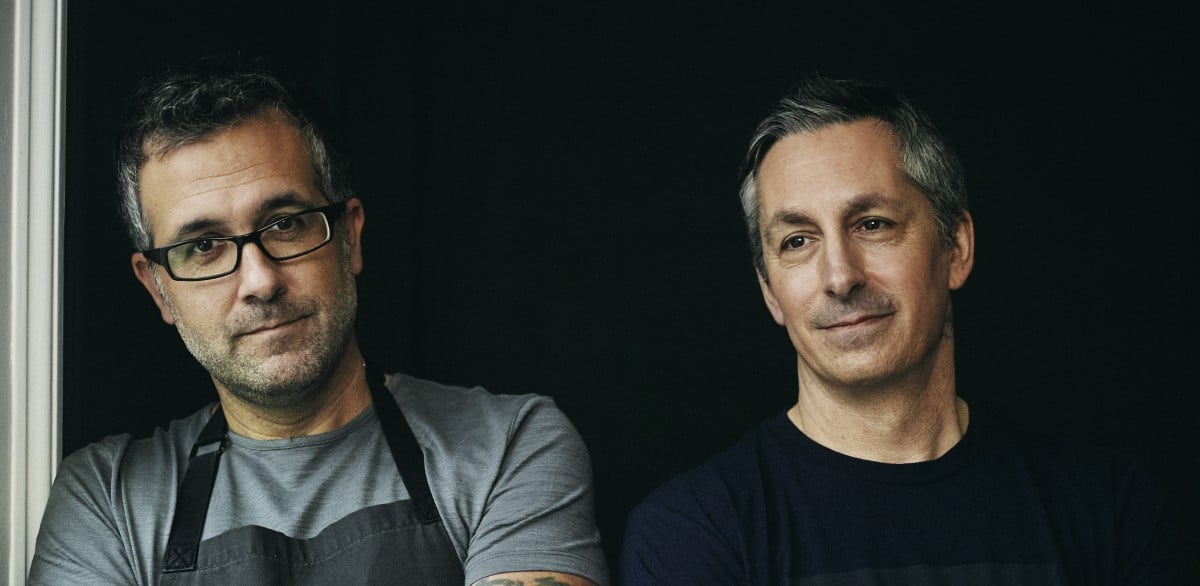 Chad and Derek Sarno have a deep resume when it comes to plant-pushing culinary endeavors, working with major retailers like Tesco and Whole Foods Market to develop and distribute delicious animal-free foods to everyone. The Sarno bros are also the founders of Wicked Healthy — and they still find time to develop new plant-based brands and educate chefs and consumers alike on the healthy, humane, and sustainable future of food.
One can only imagine it's the incredible food that gives them enough fuel to do it all.
Right on the heels of launching the Wicked Kitchen product line in Tesco (a huge deal), the Sarno Brothers are releasing the Wicked Healthy Cookbook. Get it while the getting's good!
We're pretty stoked to have the Sarnos on the GFI Advisory Board. With so much going on, we had to get them over to our blog to share all of the delicious details.
Without further ado, we invite you to get to know Chad and Derek!
What's your motivation for focusing on food?
Chad: Everyone eats. Not everyone will pick up a book, will be open to change, will sit in stillness, or will listen to the reason behind a plant-based lifestyle. But everybody eats.
Delicious food is a vehicle that allows many people to put their guard down, and most importantly, it opens up a conversation. This is why we will always lead with taste and compassion at Wicked Healthy. If a dish strikes those emotional connections a person has to textures and flavors they are 'used to' or familiar with, the fear of the unknown dissolves and the conversation can start.
Derek: The main motivation behind everything we do is compassion and being connected and aware of what we're eating. We're pushing plants on the largest scale, focusing on creating foods free from animals, and making wicked awesome dishes everyone can enjoy, especially meat-eaters. By making food simple, recognizable, sexy, and friggin delicious, it's a no-brainer way to make more plant-based choices.
What one or two people, books, or films have most influenced or inspired your work? Tell us a bit about why they impacted you.
Chad: This is a difficult question since so many along the way have influenced the way I look at cooking and food. I would say between our mom and Nana, they both had a huge impact on my life and passion for good, clean, scratch cooking. Spiritual teachers along the way, friends that have passed away, and the activists that are fighting the good fight for animals have all influenced and impacted my culinary path in different ways. All of these people have opened my eyes to the fact that cooking plant-based foods is only the surface of this work we do, and the impact it has on the planet is far greater.
Derek: We grew up cooking with our Italian Nana, and she was always in the kitchen and always feeding people. Food was definitely her love language. As kids, we spent a lot of time with her, helping and learning in the kitchen. We included some our favorite recipes from her in the Wicked Healthy Cookbook, like Nana's Red Sauce. That is a recipe that has quite a bit of significance to us.
What has been your most memorable Wicked Healthy moment?
We have hit many milestones and turning points with Wicked Healthy this year. Derek launched the Tesco exclusive line, Wicked Kitchen, which confirmed that we are not living in a bubble of assumptions around this type of food. Consumers have proven that flavor-first, plant-based food is in demand and what people are craving. We are in a very exciting time where we are seeing the collective awareness around us and the plant-based options available growing so quickly.
Publishing the Wicked Healthy Cookbook is also a huge turning point for us, finally having a collection of recipes and our philosophy around Wicked Healthy to share.
If you could be known for one thing, what would you want it to be?
Derek: The main practice behind everything we do is compassion. And one thing we are so proud of is how we can make a big difference in reducing the amount of suffering in the world. Being a benefit to others is the greatest honor in life.
Chad: That Wicked Healthy has made an incredible impact on saving millions of animals from being killed and consumed, and we were the disruptive brand that spoke up for the voiceless by bringing plant-based options to consumers globally.
What product or initiative are you most excited about right now?
This is a tough question since this year is a huge one. The Wicked Kitchen line will continue to have a massive impact with the line extensions that are planned for the coming year. Our book is just about to be released in a few weeks from this interview, and we cannot wait to share this with the world. Lastly, we plan to launch our US line of plant-based seafood around the end of 2018.
So… this year is pretty full of things to get excited about, and we are more driven than ever to continue with the projects and partnerships we are forming to drive our mission of Wicked Healthy to a global stage.
Thanks for the time, Brothers Sarno! We couldn't be more excited about the work you're doing. Thanks for making plant-based eating wicked delicious.
To learn more about The Good Food Institute's work supporting the healthy, humane, and sustainable future of food, click here.