Watch cell-based meat startup founders discuss the future of protein
Get a taste of the Good Food Conference. Watch the founders of UPSIDE Foods, JUST, BlueNalu, and Fork & Goode discuss their journeys in the cell-based meat industry and how the field will grow in years to come.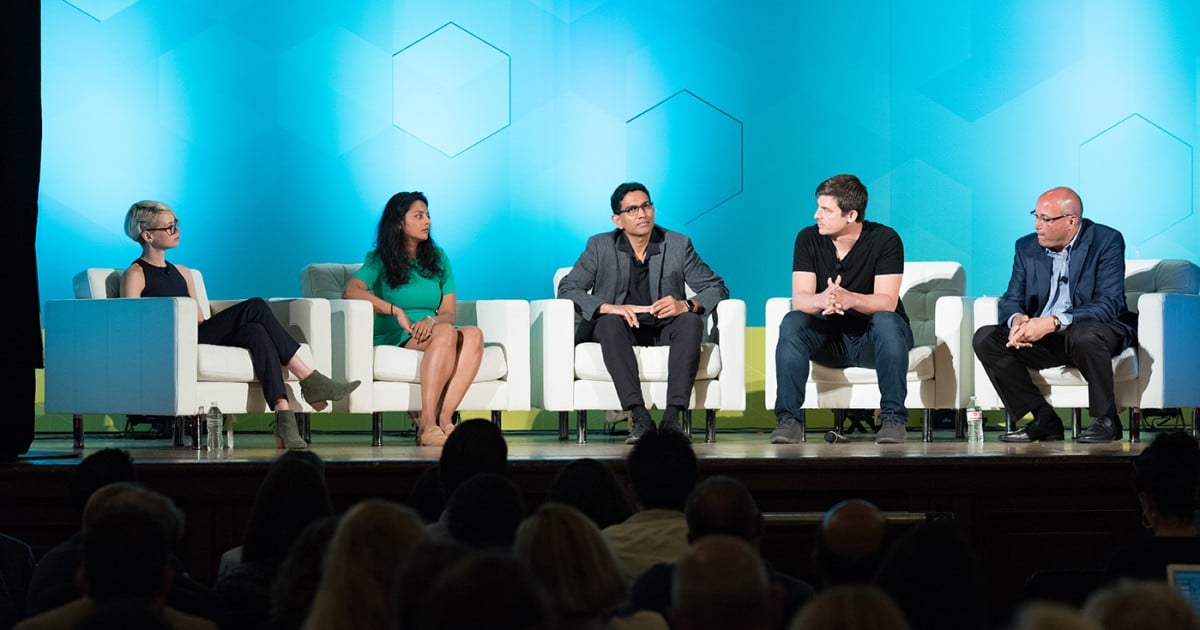 "Partnering is critical for success…thanks to GFI, [the industry] really came together." — Lou Cooperhouse, President & CEO of BlueNalu
Registration for the Good Food Conference 2019 is officially open! Teamwork is essential for building a more sustainable food system, and the Good Food Conference 2018 saw some of the best and brightest in the cell-based meat industry gathering together to discuss the future of food.
Watch the founders of UPSIDE Foods, JUST, BlueNalu, and Fork & Goode talk about their journeys in the cell-based meat industry and how the field will grow in years to come. They discuss the challenges and successes of building a company, predictions for the future, and food system sustainability.
UPSIDE Foods co-founder & CEO Uma Valeti is optimistic that cell-based meat will gain a significant share of the market in the next ten to fifteen years. Not only does cell-based meat have the potential to be healthier, less resource-intensive, and safer than conventional meat, but it carries a culture of "respect for principles of good health, respect for local cultures and delicious food."
Like any grassroots movement, the change is starting on the ground floor. Consumers—especially younger demographics—are holding their food to a higher standard, demanding products that are both nutritious and environmentally-conscious. Cooperhouse puts it this way: "If you can have a mercury-free, pathogen-free, environmentally sustainable tuna…people will certainly commit to that product."
The key is versatility. Cell-based meat, according to Valeti, will surpass standard proteins because it can be customized to specific taste and nutrition requirements. Cell-based meat is fundamentally different from conventional agriculture in its ability to "evolve into infinite types of products."
What's more, cell-based meat production is "short-circuited" in that the entire process takes place under one roof, thus consolidating the supply chain. Raising cattle, by contrast, requires transport between farms and processing facilities; it takes a tremendous amount of land and resources for a comparatively small output. This is partially due to the caloric loss of feed conversion: even a chicken requires nine calories of feed to produce one calorie of meat.
Fork & Goode founder & CEO Niya Gupta points out that the efficiencies of cell-based meat will also "reflect efficiency in cost." Ultimately, cell-based meat should be cheaper—for both the planet and consumers.
So is cell-based meat less a question of will than when? "The meat market is a four-trillion-dollar market filled with lots of categories [and] complexity," says JUST co-founder and CEO Josh Tetrick. It takes far less time to craft a chicken nugget than a steak with marbling. No matter what product comes to market first, the early adopters will be critical. They act as opinion leaders when they interest family or friends in a novel choice. Many of the people in the audience that day will play this role. 
We hope you'll be in the audience at the Good Food Conference 2019! Join the entrepreneurs, experts, investors, and scientists leading the charge for a sustainable, healthy, and just future of food.