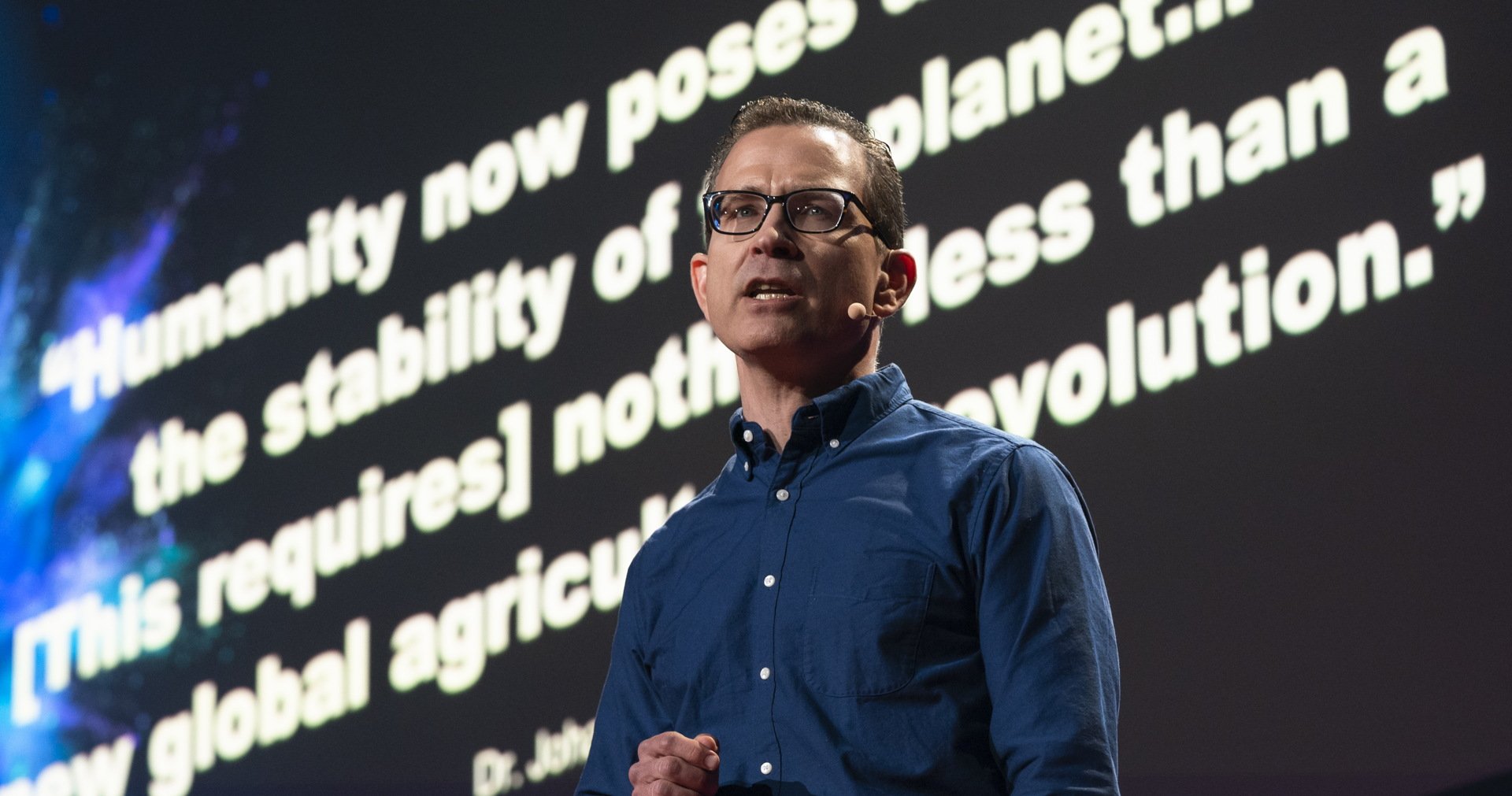 Leading food systems innovator calls for "agricultural revolution" to address climate & health "emergencies"
22 May 2019
Good Food Institute Executive Director says plant and cell-based meat investments are critical to food system overhaul, as the world's leading scientists declare that industrial animal agriculture is destroying our planet and jeopardizing global health. TED Talk now online HERE.
Good Food Institute Executive Director Bruce Friedrich says Cargill's investment in Aleph Farms, announced today, is part of a growing shift within the conventional meat industry to drive and capitalize on meat production transformation.
Good Food Institute Executive Director Bruce Friedrich says plant and cell-based meats can curb planetary issues like climate change and antibiotic resistance, but more funding is needed.
"It's past time to mobilize the resources that are necessary to create the next global agricultural revolution," said Mr. Friedrich, when he took to the TED stage in Vancouver last month.
"Climate change and antibiotic resistance are global emergencies. Meat production is exacerbating these emergencies on a global scale. But we are not going to decrease meat consumption unless we give consumers alternatives that cost the same or less, and that taste the same or better," he said.
"This requires a global solution; what we need to do is produce the meat that people love, but we need to produce it in a whole new way.
"Plant-based and cell-based meat gives consumers everything they love about meat–the taste, the texture, and so on–but with no need for antibiotics and with a fraction of the adverse impact on the climate."
He says that despite recent progress in these fields, including plant-based meat makers Beyond Meat and Impossible Foods enjoying the largest VC rounds in the sector's history, the industries are still nascent.
Research from The Good Food Institute documents that plant-based meat represents less than 1 percent of all meat sales. Furthermore, investments in cell-based meat were only 6 percent of those made in plant-based food, 0.5 percent of investments in food technology and 0.2 percent of those made in the cannabis industries in 2018.
"We're going to need all hands on deck to make these the global meat industry," said Mr. Friedrich.
"Governments spend tens of billions of dollars every single year on research and development focused on global health and the environment. They should be putting some of that money into optimizing and perfecting the production of plant-based and cell-based meat," he said.
Mr. Friedrich says that partnering with conventional meat industry companies will be key to transforming meat production.
"We need the present meat industry. We need their economies of scale, their global supply chains, their marketing expertise, and their massive consumer base.
"We don't want to disrupt the meat industry; we want to transform it."
Media inquiries: Maia Keerie at The Good Food Institute on 415 767 8973 or via maiak@gfi.org
The Good Food Institute (GFI) is a 501(c)(3) nonprofit working internationally to make alternative proteins delicious, affordable, and accessible.