V-Label webinar: A deep dive into vegan seafood alternatives
Event description
With increasing concerns about sustainability and animal welfare, many consumers are turning to vegan options when it comes to seafood. This shift in consumer demand presents a unique opportunity for businesses to offer innovative and sustainable alternatives to traditional seafood products. In this webinar, V-Label will explore the latest trends and developments in the vegan seafood market, as well as the challenges and opportunities that businesses face in meeting the growing demand for these plant-based options. Whether you are a food manufacturer, retailer, or distributor, this webinar is designed to help you stay ahead of the curve and tap into this rapidly growing market. Explore the exciting world of vegan seafood alternatives and discover new opportunities for your business.
GFI speakers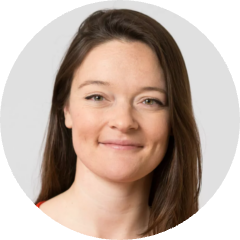 Carlotte Lucas
SENIOR CORPORATE ENGAGEMENT MANAGER
Carlotte supports the food industry to make delicious and affordable plant-based meat available across Europe, and prepare the sector for the arrival of cultivated meat.