Science and Technology Specialist
THE GOOD FOOD INSTITUTE ASIA PACIFIC
GFI Asia Pacific is looking for a Science and Technology Specialist with a focus on Plant-Based Meat, Egg and Dairy.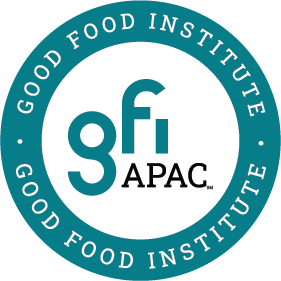 Job description
The Good Food Institute (GFI) is on the forefront of the movement to use food technology and markets to solve some of the world's biggest problems, from climate change and global hunger to antibiotic efficacy and the exploitation of billions of animals annually. Please read the 2019 Year in Review – in particular pages 8-9 on our Science & Technology work – to find out more about who we are and what we do.
GFI Asia Pacific is hiring a Science and Technology Specialist with a focus on plant-based meat, egg and dairy. The successful candidate will work to ensure that the best scientists and companies in the world are engaged in plant-based meat, egg and dairy R&D; facilitate collaboration and research in this area; and direct funding of the most promising scientific endeavors to transform agriculture away from the industrial farming of animals.
How You Will Make a Difference
As GFI APAC's Science and Technology Specialist with a focus on Plant-based meat, egg and dairy, you will radically transform the food system by:
Identifying and inspiring public funding opportunities for open-access plant-based meat, egg and dairy R&D.
Creating a map of academic and private sector labs, plant and food scientists, relevant to the plant-based meat, egg and dairy industry.
Building the science community through meetings, outreach, and information sharing.
Motivating future developers and innovators through academic lectures, community building, and curriculum development (in partnership with academia).
Identifying and making information available on collaboration and funding opportunities, as well as opportunities for research in plant-based technologies.
Monitoring scientific advances in our space, writing blogs/updates and communicating to audiences interested in the Asia Pacific region.
Performing any other duty that is relevant to GFI's mission, e.g., working with GFI's global SciTech teams, leveraging expertise to support others on GFI's global teams, local communication efforts, supporting start-ups, and general GFI staff duties and activities.
Who We're Looking For

The Science and Technology Specialist must have:
A Bachelor's degree in a relevant scientific field (e.g., food science, biochemical engineering, plant molecular biology, plant genetics, crop science) is required, a Master's degree preferred.
At least 5 years of experience in R&D in the food industry. Previous work with plant-based meat, egg and dairy products/companies is a strong plus.
Good communication and relationship building abilities.
Strong organizational skills and attention to detail.
Comfort with public speaking and presenting scientific ideas to different audiences.
Fluency in English and preferably also Chinese (Mandarin) or another Asian language.
Experience analyzing scientific literature and conducting literature reviews and writing scientific articles.
Functional understanding of the principles, methods, equipment and techniques used in plant-based meat, egg and dairy research, product development and manufacturing.
Ability to work independently and use sound judgment in decision making, including setting and managing priorities and meeting competing deadlines.
Comfort working remotely and in a rapidly growing and evolving organization.
Strong support for GFI's philosophy and mission; demonstrated interest in public health, environmentalism, animal protection, or hunger relief.
We want the best people and we don't want biases holding us back. We strongly encourage people of every color, orientation, age, gender, origin, and ability to apply. Because we value a diverse workplace, we prioritize an inclusive climate absent of discrimination and harassment during the application process and after you join the team.
The Fine Print
Terms of employment: Full-time
Reports To: Managing Director, GFI APAC
Location: Remote – but with a strong preference for Singapore.
Benefits: Working from home, flexible working hours, opportunity to create real impact, respectful managers and supportive colleagues.
Application Deadline: Please complete this short form, upload your CV and cover letter and complete two short tasks. Thank you. Your cover letter (of 1-2 pages) and CV should set out:

What motivated you to apply for this role.
How you meet each of the requirements for the role as listed in the job description.
Which bit of the job description energises you the most.
We really look forward to hearing from you!
Any questions? If you have any questions about this role, please do reach out to us at mirtek@gfi.org. If you've read this far but decided not to apply, please feel free to share this job description with someone else in your network who you think might be a good fit for the role! Thank you!
Alternative protein career portal
Learn how to make a career and find open positions in the exciting field of alternative proteins.