Digital Marketing Associate
THE GOOD FOOD INSTITUTE ASIA PACIFIC
GFI APAC is looking for a Digital Marketing Associate to maximize our impact and influence on social media and other online platforms across Asia Pacific.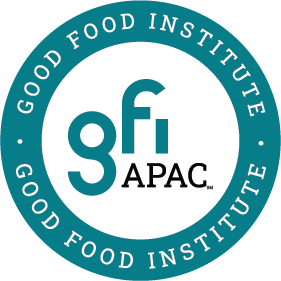 Job description
The Good Food Institute is at the forefront of the movement to use food technology to solve some of the world's biggest problems, from climate change and global hunger, to antibiotic resistance and the exploitation of animals. We are developing the roadmap for a sustainable, secure and just protein supply, making sustainable proteins accessible, affordable, and delicious. Please check out our Year In Review to find out more about who we are, what we do, and why.
We are looking for a Digital Marketing Associate to maximize GFI APAC's impact and influence on social media and other online platforms across Asia Pacific.
How You Will Make a Difference
As Asia's leading alternative protein think tank, GFI APAC is at the epicenter of food systems change in the world's most populous region. As our Digital Marketing Associate, you will ensure that GFI APAC's website, social media platforms, and other external-facing assets reflect the expert-driven and high-impact work we do each and every day. Reporting directly to the Senior Communications Manager of GFI APAC, your contribution will be critical in ensuring that GFI's digital messaging resonates with key stakeholders and supporters across Asia Pacific as we seek to reimagine how the world thinks about meat.
Among your responsibilities:
Contribute to content creation, distribution, and marketing across digital platforms, including GFI APAC's website, blog, e-newsletters, and social media.
Conduct analysis of GFI APAC's digital performance through Google Analytics and other tools, and develop an ambitious growth strategy to optimize our platforms and achieve increased visibility and engagement.
Expand brand awareness and following of GFI APAC through special campaigns.
Assist with promotions and logistics for GFI-organized events, including scientific webinars and our hybrid APAC summit.
Engage with members of the public through maintenance of our organizational inbox and ensure that all inquiries receive helpful and thorough responses in a timely manner.
Work with the GFI US Communications team to provide APAC-specific input and leverage the communication materials developed.
Perform other relevant duties as required.
Who We're Looking For
As our Digital Marketing Associate, we want you to have:
Bachelor's degree from an accredited college or university.
Minimum of three years related experience in communications or marketing project management.
Proven experience working with Google Analytics, WordPress, and other common marketing tools.
Solid understanding of Southeast Asia's digital cultural nuances.
Proven interest in and strong working knowledge of social media, especially LinkedIn and Twitter.
Proactive and strategic thinking skills with exceptional writing, editorial, project management, and interpersonal skills.
Solid organizational skills, attention to detail, and the ability to handle multiple projects simultaneously.
Demonstrated ability to work well independently and meet deadlines.
Systematic approach to building new audiences and familiarity with marketing metrics.
Proficiency in Microsoft Office and Google Drive.
Familiarity with basic photo editing (color correction, compositing, etc.). Experience with Adobe InDesign, Photoshop, Premiere, or After Effects is an advantage.
Excellent written and verbal communication skills in English. Fluency in Mandarin Chinese, Japanese, Korean, or Thai is an advantage.
Support for GFI APAC's philosophy, commitment to the objectives of the organization, and ability to professionally advocate GFI APAC's positions.
Comfort working in a small, growing, and evolving organization.
We want the best people and we don't want biases holding us back. We strongly encourage people of every race, orientation, age, gender, origin, and ability to apply. Because we value a diverse workplace, we prioritize an inclusive climate absent of discrimination and harassment during the application process and after you join the team.
The Fine Print
Terms of Employment: Full time 
Reports to: Senior Communications Manager, GFI APAC
Location: Singapore
Benefits: Working in and outside an office, flexible working hours, opportunity to create real impact, respectful managers, and supportive colleagues.
Application deadline: We will be assessing candidates on a rolling basis, so please apply now!
Application process: Please complete this short form, upload your CV and cover letter. Thank you. Your cover letter (max 1 page) should set out:

What motivated you to apply for this role?
How do you meet the requirements listed in the job description?
Which bit of the job description energizes you the most?
Beyond the initial screening process, there will be several further rounds. We really look forward to hearing from you!
Any questions? If you have any questions about this role, please do reach out to us at ryanh@gfi.org. If you've read this far but decided not to apply, please feel free to share this job description with someone else in your network whom you think might be a good fit for the role! Thank you!
Alternative protein career portal
Learn how to make a career and find open positions in the exciting field of alternative proteins.