Public Affairs Manager, Germany
THE GOOD FOOD INSTITUTE EUROPE
GFI Europe is looking for a Public Affairs Manager in Germany. This role will significantly influence how quickly Germany and Europe move to a more ethical and sustainable food system.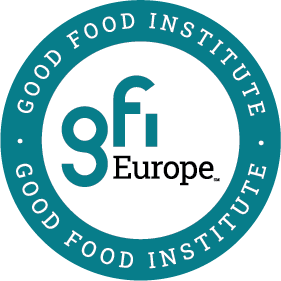 English
Public Affairs Manager, Germany
Helping people, animals and the planet by advocating supportive public policies for plant-based and cultivated meat in Germany and the EU
Industrial animal agriculture is at the root of many of the most pressing global issues of our time, from climate change and global hunger, to antibiotic resistance and poor animal welfare.
The Good Food Institute Europe (GFI Europe) is at the forefront of the movement to use food technology to replace the products of industrial animal agriculture with plant-based and cultivated alternatives. Please check out our U.S. affiliate's website (gfi.org) and read the 2020 Year in Review (gfi.org/2020) to find out more about who we are and what we do. We are at an exciting stage in our growth, and are looking for a Public Affairs Manager – Germany to join our team. For more information about this role, please read the job brochure: shorturl.at/ghBOY.
How you will make a difference:
Your role will have high responsibility and high impact. You will significantly influence how quickly Germany and Europe move to a more ethical and sustainable food system.
You will be responsible for driving policy impact in Germany and, to a limited extent, in Austria and Switzerland. This will include, amongst other things, driving significantly more public investment into research and development for plant-based and cultivated meat, working to deliver a fair, evidence-based regulatory path-to-market for plant-based and cultivated proteins, and ensuring that the labelling of plant-based and cultivated food products is not unfairly restricted.
As our first colleague based in Germany, you will be responsible for identifying priorities and opportunities to achieve maximum impact for alternative proteins and for rallying like-minded organisations and individuals to amplify our impact. You will be working closely together with our Brussels-based colleagues to ensure that Germany plays a positive role for alternative proteins in the EU.
To achieve this you will:
Deliver positive government policy change to support plant-based and cultivated proteins in Germany and, where opportunities arise, in Switzerland and Austria.
Develop and execute lobbying strategies, based on thorough research and mapping of decision-makers.
Build relationships with, and advise, senior politicians and civil servants in relevant public institutions, including the Bundesregierung, federal ministries, the Bundestag, as well as other national and state-level institutions.
Build alliances and work cooperatively with other organisations, companies, scientists and stakeholders, and engage respectfully with people who are still to be persuaded. You will collaborate with other organisations to amplify our policy advocacy through multiple channels and help create a positive ecosystem for alternative proteins.
Act as a spokesperson and representative for GFI in meetings with German stakeholders (including donors), in the media, and at public events, as needed.
Closely monitor and stay abreast of relevant policy proposals, spotting opportunities and pre-empting threats.
Together with your Brussels-based colleagues, ensure that Germany plays a positive role for alternative proteins in EU policy.
Together with Communications colleagues, work with the media and use social media to help deliver our objectives and raise the profile of alternative proteins in Germany.
Perform other tasks as required.
Who we're looking for

You must have:
A passion for GFI's philosophy and mission.
A demonstrated ability to drive policy change.
Comfort with, and experience of, interacting with and influencing officials and politicians.
Experience working on policy at the national (German or other country-level), EU, or multilateral level, for example in a government, public institution, political party, NGO, think tank, industry association, public affairs agency, consulting firm, multilateral, or other relevant institution.
Excellent people-skills – the ability to influence, network, build alliances and work well in a team.
Enthusiasm, a strong work ethic and self-motivation; a sense of ownership and responsibility to drive outcomes. A positive, can-do, hands-on attitude.
Full fluency in German. Working proficiency in English.
It would be an advantage to have some or all of the following attributes, but none of them are prerequisites, and we welcome applications from candidates without any or all of them:
In addition to the above, experience working on German federal policy, including in one or more of the following policy areas: research and innovation, food and agriculture, climate change, or public health.
Experience and demonstrated ability to interact with the media.
A strong network of contacts at the federal policy level.
A demonstrated ability to build alliances with NGOs and industry actors.
We want the best people and we don't want biases holding us back. We strongly encourage people of every colour, orientation, age, gender, origin, and ability to apply. Because we value a diverse workplace, we prioritize an inclusive climate absent of discrimination and harassment during the application process and after you join the team.
Benefits and the fine print
Terms of employment: Full-time (flexible hours), permanent
Location: Flexible/home-based, with willingness to travel to Berlin at least every two weeks and sometimes on short notice. Once the COVID situation has cleared, the whole GFI Europe team will aim to get together in-person approximately twice per year for around 3-4 days at a time, most likely in the London or Brussels areas.
Right to work requirements: The successful candidate must, by the start of the employment, have permission to work in the country where you are based.
Application Deadline: We will be assessing candidates on a rolling basis, so please apply now!
Application process: Please complete the short form, and upload your CV and cover letter, here: https://forms.gle/Ys1ZJ2TgtFqPpezE9 – thank you. Your cover letter (of 1-2 pages) and CV should set out:
what motivated you to apply for this role
how you meet each of the requirements for the role as listed in the job description
and which bit of the job description energises you the most.
The full application process is outlined in the job brochure: shorturl.at/ghBOY. We really look forward to hearing from you!
Any questions? If you have any questions about this role, please do reach out to us at europe@gfi.org. If you've read this far but decided not to apply, please feel free to share this job description with someone else in your network who you think might be a good fit for the role! Thank you.
German
Public Affairs Manager, Germany
Die industrielle Tierhaltung ist die Wurzel vieler der drängendsten globalen Probleme unserer Zeit, vom Klimawandel und globalem Hunger bis hin zu Antibiotikaresistenzen und Tierleid.
Das Good Food Institute Europe (GFI Europe) steht an der Spitze der Bewegung, die Produkte der industriellen Tierhaltung durch pflanzliche und kultivierte Alternativen zu ersetzen. Bitte besuchen Sie die Website unserer US-amerikanischen Partnerorganisation (gfi.org) und lesen Sie unseren Jahresrückblick 2020 (gfi.org/2020), um mehr über unsere Arbeit zu erfahren.
Wir befinden uns in einer dynamischen Phase unseres Wachstums und suchen einen Public Affairs Manager (m/w/d) in Deutschland zur Verstärkung unseres Teams. Weitere Informationen finden Sie in der Job-Broschüre Public Affairs Manager (m/w/d) – Germany: shorturl.at/ghBOY.
Wie Sie einen Unterschied machen werden
In Ihrer Rolle werden Sie eine hohe Verantwortung und bedeutsame Wirkung haben. Sie beeinflussen maßgeblich, wie schnell sich Deutschland und Europa auf ein ethisches und nachhaltiges Ernährungssystem umstellen.
Sie sind dafür verantwortlich, politischen Fortschritt für alternative Proteine in Deutschland und in begrenztem Umfang in Österreich und der Schweiz voranzutreiben. Dazu gehört unter anderem: deutlich mehr öffentliche Investitionen in Forschung und Entwicklung zu mobilisieren; auf einen fairen, evidenzbasierten regulatorischen Weg zur Marktreife für pflanzliche und kultivierte Proteine ​​hinzuarbeiten und sicherzustellen, dass die Kennzeichnung von pflanzlichen und kultivierten Lebensmitteln nicht unfair eingeschränkt wird.
Als unser erstes Teammitglied in Deutschland sind Sie dafür verantwortlich, Prioritäten und Möglichkeiten zu identifizieren, um maximale Wirkung für alternative Proteine ​​​​zu erzielen. Sie werden gleichgesinnte Organisationen und Einzelpersonen zusammenbringen, um unsere Wirkung zu verstärken. Sie arbeiten eng mit unseren Brüsseler Kollegen zusammen, um sicherzustellen, dass Deutschland eine positive Rolle für alternative Proteine ​​in der EU spielt.
Ihre Aufgaben:
Sie engagieren sich für eine positive Regierungspolitik zur Unterstützung pflanzlicher und kultivierter Proteine ​​in Deutschland und, wo sich punktuell Möglichkeiten ergeben, in der Schweiz und in Österreich.
Sie entwickeln und implementieren Lobbying-Strategien, basierend auf gründlicher Recherche und Mapping von Entscheidungsträgern.
Sie beraten hochrangige Politiker*innen und Beamte*innen in relevanten öffentlichen Einrichtungen, einschließlich der Bundesregierung, Bundesministerien, des Bundestages sowie anderer nationaler und landesweiter Behörden und Institutionen.
Sie bauen Allianzen auf und arbeiten kooperativ mit anderen Organisationen, Unternehmen, Wissenschaftler*innen und Interessenvertreter*innen zusammen und gehen respektvoll mit Menschen um, die noch zu überzeugen sind. Sie werden mit anderen Organisationen zusammenarbeiten, um unsere politische Interessenvertretung über mehrere Kanäle zu verstärken und ein positives Ökosystem für alternative Proteine ​​zu schaffen.
Sie fungieren als Sprecher*in und Vertreter von GFI bei deutschsprachigen Treffen mit Interessengruppen (einschließlich Spendern), in den Medien und bei öffentlichen Veranstaltungen.
Sie beobachten relevante politische Vorschläge und halten sich ständig auf dem Laufenden, um Chancen zu erkennen und Bedrohungen vorzubeugen.
Sie sorgen gemeinsam mit Ihren Brüsseler Kolleg*innen dafür, dass Deutschland eine positive Rolle für alternative Proteine ​​in der EU-Politik spielt.
Sie arbeiten gemeinsam mit unserem Kommunikations-Team mit den Medien und nutzen soziale Medien, um unsere Ziele zu erreichen und die Bekanntheit alternativer Proteine ​​in Deutschland zu erhöhen.
Sie repräsentieren GFI Europe bei Treffen mit Interessengruppen und bei öffentlichen Veranstaltungen.
Sie führen Sie nach Bedarf andere Aufgaben aus.
Ihr Profil
Was Sie mitbringen müssen:
Eine Leidenschaft für die Philosophie und Mission von GFI.
Die nachgewiesene Fähigkeit, politische Veränderungen voranzutreiben.
Erfahrung in der Interaktion mit politischen Entscheidungsträgern und in der Beeinflussung politischer Prozesse.
Erfahrung in der politischen Arbeit auf nationaler (deutscher oder anderer nationaler Ebene), EU oder multilateraler Ebene, zum Beispiel in einer Regierung, öffentlichen Institution, politischen Partei, NGO, Think Tank, Industrieverband, Public Affairs Agentur, Beratungsunternehmen, oder einer andere relevante Institution.
Hervorragende Fähigkeiten im Umgang mit Menschen – die Fähigkeit, Einfluss zu nehmen, sich gut zu vernetzen, Allianzen aufzubauen und gut im Team zu arbeiten.
Begeisterung, eine starke Arbeitsmoral und Eigenmotivation; ein Gefühl von Eigenverantwortung und Zielstrebigkeit. Eine positive, pragmatische Einstellung.
Fließende Deutschkenntnisse. Gute Englischkenntnisse.
Es wäre von Vorteil, einige oder alle der folgenden Eigenschaften zu haben, aber keine davon sind Voraussetzung. Wir freuen uns über Bewerbungen von Kandidat*innen, die keine oder nicht alle dieser Eigenschaften haben:
Berufserfahrung in der deutschen Bundespolitik, u. a. in einem oder mehreren der folgenden Politikfelder: Forschung und Innovation, Ernährung und Landwirtschaft, Klima, Umwelt oder öffentliche Gesundheit.
Erfahrung und nachgewiesene Fähigkeit im Umgang mit den Medien.
Ein starkes professionelles Netzwerk auf bundespolitischer Ebene.
Die nachgewiesene Fähigkeit, Allianzen mit NGOs und anderen Akteuren aufzubauen.
Wir ermutigen Menschen jeder Hautfarbe, Orientierung, Herkunft, Fähigkeit, jedes Alters und Geschlechts sich zu bewerben. Da wir einen vielfältigen Arbeitsplatz schätzen, legen wir großen Wert auf ein integratives Klima ohne Diskriminierung und Belästigung während des Bewerbungsprozesses und nachdem Sie die Stelle angetreten haben.
Job-Details:
Anstellungsbedingungen: Vollzeit (flexible Arbeitszeiten), unbefristet
Standort: Flexibel/von zu Hause aus, mit Bereitschaft, mindestens alle zwei Wochen und manchmal auch kurzfristig nach Berlin zu reisen. Sobald sich die COVID-Situation entspannt hat, wird sich das gesamte Team von GFI Europe etwa zweimal im Jahr für etwa 3-4 Tage persönlich treffen, höchstwahrscheinlich in den Regionen London oder Brüssel.
Recht auf Arbeit: Sie müssen zu Beginn der Beschäftigung eine Arbeitserlaubnis in dem Land haben, in dem Sie ansässig sind.
Bewerbungsschluss: Wir werden die Kandidat*innen fortlaufend sichten, also bewerben Sie sich bitte jetzt!
Bewerbungsprozess: Bitte füllen Sie dieses kurze Formular aus und laden Ihren Lebenslauf und Ihr Anschreiben hier hoch: https://forms.gle/Ys1ZJ2TgtFqPpezE9 – vielen Dank. Ihr Anschreiben (von 1-2 Seiten) und Ihr Lebenslauf sollten Folgendes enthalten:

Was Sie dazu bewogen hat, sich für diese Stelle zu bewerben,
wie Sie die einzelnen Anforderungen, die in der Stellenbeschreibung aufgeführt sind, erfüllen,
und welcher Teil der Stellenbeschreibung Sie am meisten anspricht.

Der vollständige Bewerbungsprozess ist in der Job-Broschüre (auf Englisch) beschrieben: shorturl.at/ghBOY. Wir freuen uns auf Ihre Bewerbung!
Wenn Sie Fragen zu dieser Rolle haben, wenden Sie sich bitte an europe@gfi.org. Wenn Sie bis hierhin gelesen haben, sich aber entschieden haben, sich nicht zu bewerben, können Sie diese Stellenbeschreibung gerne in Ihrem Netzwerk teilen! Vielen Dank.
Alternative protein career portal
Learn how to make a career and find open positions in the exciting field of alternative proteins.